The Adconia Online Library – Experience the important topics in procurement and SCM live and up close!
Methodology, Trending Topics, Digitalization, Environmental Governance, Risk Management – Learn more about the crucial challenges in procurement and supply chain with the practical example of our news, analyses and project reports.
For several years, we have been processing and documenting the topics and challenges we face in our daily work in procurement and supply chain in our publications for you.
Our online library (https://adconia.de/en/publication/) now contains more than 180 publications, i.e. analyses and practical reports on current topics.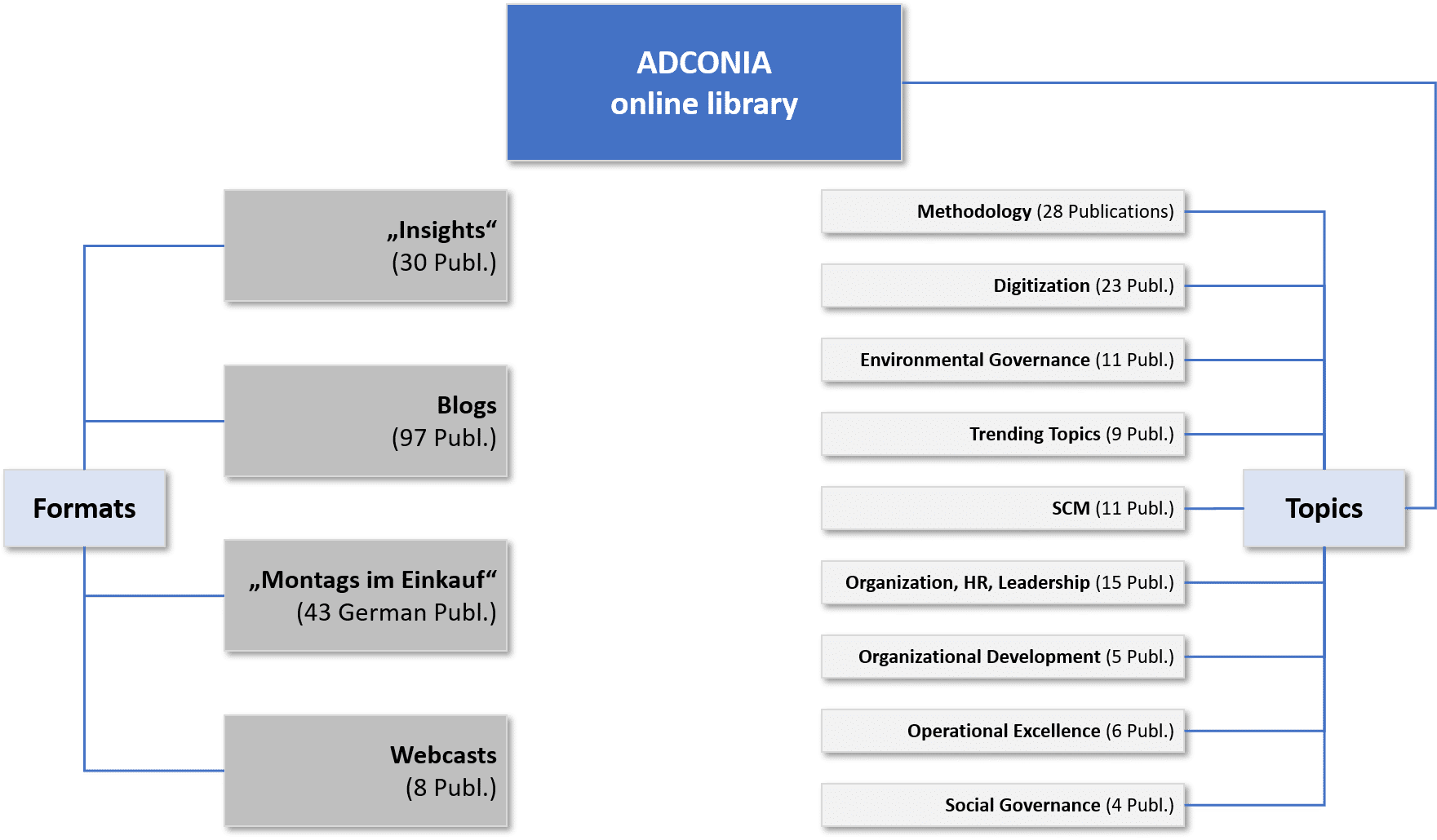 Stay in control of the requirements and issues that are important to you.
We show you how to control the flood of demands of your dynamic daily routine and keep you up to date with our publications and at events.
In our two-publication series "Insight" and "Blog", as well as our webcasts, we inform you about the topics that are critical to the success of your supervisor, you, and your company as a whole in the area of procurement and supply chain. At the same time, we try to offer solutions, measures and concrete assistance.
Methodology, Corporate Governance and Operational Excellence set the agenda
Despite the current pandemic-ridden daily routine, we are noticing a structurally strong interest in the topics of methodology, corporate governance and operational excellence, which are crucial in the long term and also in our view in the long term. We have devoted 91 articles in our library to these three topics alone.
In addition, publications on digitization (25 articles), HR and organizational development (18 articles), SCM (13 articles) and trending topics (9 articles) also regularly play an important role.
What are the crucial topics for you?
Explore our online collection of publications and topics and identify the action areas that are crucial for you!
Systematic and structured tools for determining the maturity level and identifying concrete optimization measures – Your Adconia
With our systematic tools for position analysis, we are able to determine your current status and level of maturity with regard to strategic alignment based on external and internal benchmarks. In addition, we identify your respective areas of development and develop tangible, concrete and measurable action plans.
Keep the reins of action in your hands – we will be happy to assist you in this.
Until then: Stay healthy!
Tim Rohweder
Partner, ADCONIA GmbH